Which t-top fit's my center console boat?
There are very few center console boats made in the last 50 years our t-tops won't fit on. Because we have a simple adjustable width feature that does not compromise strength, it's likely we have a perfect fit for you. We offer the same quality and performance as a custom fabricated or OEM t-top but for half or more the price! Check out our gallery which has over a decade of customer boats with thousands of photos and hundreds of reviews.
To start, measure the width of your center console... if it's 48 inches or less, the SG300 t-top will fit. If it's 50 inches or less, the SG600 or SG900 will work. All Stryker T-Top are adjustable making them a one-size-fits-all solution. Simply move the prefabricated left and right upright sections in or out to the desired location. After you complete the installation process by clamping in the top section, mounting to the floor and using the provided standoffs that mount to the sides of the center console, you will have an extremely sturdy and strong OEM quality t-top with no wiggle, sway, creaks or squeaks. Also, note that the deck of your boat needs to be flat on the sides of the center console for the legs to be mounted to the deck properly. If your deck is angled or not flat, we recommend contacting us or checking our gallery to see if other customers have successfully installed theirs on the same boat. If the base of your center console steps out or curves out, factor those extra inches into the overall footprint and total width. If your center console has an outside hinged door, be sure to measure the clearance requirements carefully. Some of our t-top models have lower cross bars on the legs sections that might prevent the door from opening. Our SG900 t-top was specifically designed with a high cross bar and a larger opening at the bottom for this reason. Realistically, not many center console units are anywhere near 50" and our t-tops generally fit 99% of boats made in the past 50 years.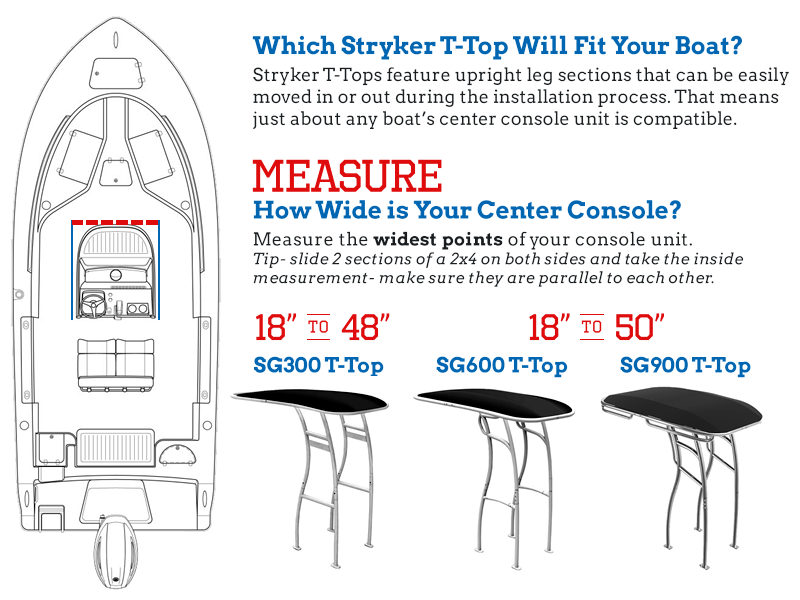 How are Stryker T-Tops adjustable?
Stryker T-top frames are basically three main components: two upright leg sections and one "hoop" top section. Each leg section has two solid billet aluminum clamps that fit on 2" diameter tubing. The top section has several welded 2" diameter cross bars that that the legs mount to. When installing your t-top, you are going to slide them in or out until they are sitting right next to your center console unit on either site. Once in position, you can lock everything in for an extremely sturdy and solid frame. The image below helps illustrate how our t-tops are adjustable:

What kind of aluminum and diameter tubing do you use for the t-tops?
All our t-tops are made of premium 6061-T6 high tensile aircraft aluminum. Our new premium t-top model the SG900 features a whopping 2.5" outer diameter tubing for the pre-fabricated upright leg sections and 2" outer diameter on the overhead "hoop" frame for the canvas. The SG600 and SG300 both use 2" outer diameter all around. Shopping guide: many of our customers are surprised to find out that some of our competitors use smaller diameter tubing (1.5" or 1.9") and some use 6063 aluminum which is weaker and has a less tensile strength.
Stryker also uses solid billet aluminum for the joints, standoffs and clamps.
Do I need a folding t-top for my boat?
The only reason for having a folding t-top is if you want to collapse it to fit in a garage or storage unit. Also, some boaters live in areas with low clearance bridges where folding might be required. A less common benefit is simply to have less material required for covering the boat and a lower cover profile means less wind resistance.
How do boat t-tops fold?
To fold a t-top, loosen the bolts on the front legs then remove the bolts on the rear. Carefully tilt forward towards the boat's bow and lay it on the deck.
What kind of finishes do your t-tops come in?
Depending on the t-top model, we offer a choice of either a high performance marine-grade anodized finish or a premium powder coated finish. Both options will seal everything with the best protection against corrosion and will protect from the harshest of environments.
What type of material is used for the t-top canopies?
We use Sunbrella™ Plus marine-grade fabric for all our canvas tops. Sunbrella™ is pretty much the undisputed best option for the marine industry. Just about every single boat you see in your local marina is dressed up with Sunbrella™ canopies, biminis, covers, seating, etc. Fade-resistant Sunbrella™ fabrics protect against salt water and all kinds of weather. They breathe so it doesn't trap heat and moisture like vinyl, which can mildew. The Skin Cancer Foundation recommends Sunbrella™ as an aid in the prevention of sun-induced damage to the skin. A properly cared for Sunbrella™ t-top canopy will out-live a competitor's marine canvas by as much as 10 times.
Your installation video mentions that Lanocote be used on bolts during assembly. What is Lancote and where can I buy it?
Lanocote is a paste that inhibits all types of corrosion and prevents thread seizure in marine hardware and machinery. You can purchase it from www.westmarine.com.Direct link.
How do I know if there is enough structure under the floor boards to bolt this to?
Most center console boats are constructed with extra materials on either side on the console. You should experience no problems with installing a Stryker T-Top on your center console boat.
Does the Stryker T-Top include standoffs to mount the t-top to the center console?
Yes. The Stryker T-Top ships with solid aluminum standoffs that can be cut to match the exact dimensions and placement of your center console. 2 are included with the SG300 and SG600; 4 are included with the SG900. The standoffs connect the upright leg sections to your boat's center console unit and they substantially increase lateral support. For those of you who have local waters that can get extra choppy or if you have a t-top loaded with accessories making it a more top-heavy, you might consider adding our T-Top V-Brace Stabilizer Kit.
Can I pull wake boarders, tubes or other watersports from the T-Top?
Absolutely not! Stryker T-Tops, and all other types of center console tops, are NOT designed for watersports including wakeboarding, water-skiing, wake surfing, and tubing. Failure to comply may result in injury to the rider and/or damage to the T-top not to mention a voided warranty.
How do I clean my anodized aluminum t-top and accessories?
First, the easiest regular care should be to rinse of the entire surface with CLEAN and fresh water followed by wiping down with a clean micro fiber of soft cotton cloth especially after a day out on the water. Never use abrasive cleaning pads or gritty cleansers. The main culprit to a degraded anodized aluminum finish is contamination from the water and atmospheric pollution. Regular cleaning will go a long way to extending many years to the life and good looks of your t-top. Anodizing is a "hard" finish. It's an electrochemical process in which an oxide (anodic) layer is chemically built on the surface of the metal. Treat the anodizing with respect and it will reward you by keeping your aluminum looking new for a very long time.
It's also a good idea to periodically use mild soapy warm water with a sponge or soft, natural bristled brush with a clean water rinse and quick wipe-down after. There are many products out there made specifically to be safe for anodized aluminum(just make sure you research first and test it on a small hidden spot before applying to the whole thing). If you use the wrong cleaning product, you will have a ruined or strange looking finish. We recommend the Woody Wax CPR system for use on Stryker T-Tops and other accessories with anodized aluminum, aluminum, stainless, and chrome finishes. More that just a cleaner, Woody Wax provides additional protection against water spots, corrosion, and oxidation for up to 6 months, providing lasting protection, sealing in corrosion blockers, creating incredible depth and shine.
Read more about the care & maintenance of anodized aluminum →
How do I clean my powder coated t-top and accessories?
Powder coating is a type of coating that is applied as a free-flowing, dry powder. The main difference between a conventional liquid paint and a powder coating is that the powder coating does not require a solvent to keep the binder and filler parts in a liquid suspension form. The coating is typically applied electrostatically and is then cured under heat to allow it to flow and form a "skin". Because powder coating does not have a liquid carrier, it can produce thicker coatings than conventional liquid coatings.
Although it may have a similar feel to your car's paint job, it's important to note that taking care of it is not the same. Also, it's important to point out that powder coated finishes do not have a clear coat like on automobiles. Please read below for more specifics on cleaning.
Read more about the care & maintenance of powder-coated paint →