​Should I Add a T-Top to My Boat?
Posted On
October 25, 2019

by

John Walsh

---

Should I Add a T-Top to My Boat?
You should absolutely buy a boat t-top if you want lots of shade, storage for gear, and a nice increase in your boat's value. Whether you want the shade to cool off and make your day on the water more enjoyable, are concerned about skin cancer, want to increase the value of your boat or need more storage for rods, lights or other accessories, a t-top is a practical and valuable addition to any center console boat. We're often asked by boat owners, "should I add a t-top to my center console boat?" and the answer is almost always yes!
A t-top can be added to just about any center console boat from 20 to 30 feet long, including Bay, Offshore, Hybrids, Cats, and even Inflatables to provide some weather protection for people near the console, behind the windshield or under the t-top. As long as the center console unit is 18" to 50" wide, there are several t-top models to choose from. There are three main sources for a t-top: a factory OEM option that is a very expensive direct-fit to your specific make and model, a custom fabricated t-top that is also pricey and requires a lot of time, and an aftermarket universal* boat t-top that adjusts to fit almost any center console boat.
Adding a t-top comes down to your personal preference and the primary use of your boat. Depending on your interests on the water, center-console boats are not just for fishing. If you enjoy cruising with friends and family over extended periods, we definitely recommend the addition of a t-top. No matter how you enjoy your boat, you're going to need more protection from the sun and elements and more stowage.
Pros of Adding a Boat T-Top
"I love my T-Top. It keeps me out of the sun, looks good on the boat, and gives me more storage room on the boat. It shades my electronics and allows me to fish from all sides the boat."
Michael Falconer - Myakka City, Florida
2018 Alumicraft 2072
Although there are many practical reasons for adding a t-top to your boat, the most beneficial is shade from the elements. Anyone who has spent the day on a boat and exposed to the sun knows just how miserable it can be. And sometimes a hat and sunscreen don't do the trick! In addition to the elements, a t-top makes fishing much more enjoyable by providing additional overhead storage for fishing rods, navigational equipment or other marine electronics. A t-top also provides additional grab rails for when the waters get choppy, you're moving around the vessel (or when your in-law, "the Qualified Captain" takes the helm). It also gives you high locations for mounting an antenna, outriggers, extra bi-color navigation lights and an all-around light as required by the US Coast Guard. Finally, a t-top will improve the looks of your boat and increase the overall value of your boat.
Cons of Adding a Boat T-Top
Depending on the t-top model and material used to construct the t-top, you can expect to add from 100-150 pounds to the weight of your boat. Most boats are designed to handle this extra weight so it's rarely a problem. This increase in weight, in addition to the drag created by the t-top, can also reduce your top speed slightly. Casting lines takes a little getting used to and snagging your hook or lure is not uncommon at first. However, casting with a t-top compared to a folding boat bimini is much easier and less restrictive. Of course, you will also incur the cost of buying and installing a t-top to your boat. Ultimately, it's proven to be a worthwhile investment and most aftermarket t-tops are a simple DIY installation. For the less mechanically inclined, a local boat shop can be hired to complete the installation. Overall, the negatives are far outweighed when compared to the benefits.
T-Tops are the Best Shade for Boats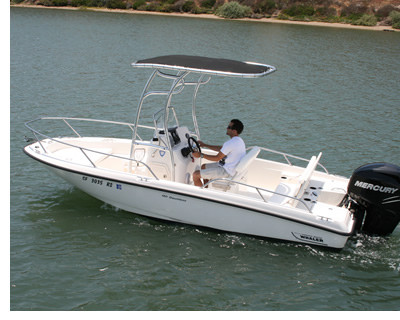 With no overhead cover, many boaters face an endless UV assault the entire time they're on the water, leading to sunburn or, even worse: skin cancer. Stryker T-top's canopies are made using only Sunbrella marine fabrics, which hold the Skin Cancer Foundation's seal of approval, providing valuable protection from the sun so boaters can safely enjoy long hours on the water. For those of us that care more about their boat's wellbeing than their own, think about how the canopy will protect your boat's helm, gear and seating from a lot of direct sunlight and downpours. On the days we're lucky to have them aboard, giving the wife, children or grandchildren an escape from the sun is worth its weight in gold in our opinion.

Increase Your Boat's Storage with a T-Top
Boat t-tops are popular because they can be fully customized with rod holders, electronics boxes, lights, marine speakers, navigational equipment, and more. If you're like us, your wife probably questions the need for multiple versions of rods and reels, nets, lures, boat electronics and so on. A properly configured t-top package will absolutely help you get organized and clear the deck of loose gear. Most t-tops are also compatible with any accessory that utilizes universal clamps that fit 2" diameter tubing.
Improve the Look of Your Boat with a T-Top
"Love the solid construction and shade. Really makes the boat more user friendly and fishable."
Chris McCoy - Mcbee, South Carolina
2012 Xpress H2O Bay
When selecting a t-top, you'll need something that fits your center console dimensions and a color that matches the details of your boat. The lines of a particular boat might work better with a t-top of a particular style. Stryker T-Top's customer boat gallery is a great way to see how a t-top can dramatically transform almost any center console boat. To see how a t-top will look on your boat, you can browse over 3,000 photos showcasing a wide range of t-top models on hundreds of different center console boats.
How to Increase the Value of Your Boat
Installing a quality brand name t-top on a boat will usually increase its value by several thousand dollars. Factors like the style, the quality of the installation, and type of accessories that have been added will only increase the boat's selling price. For the time that you use the boat, be sure you properly maintain the t-top and accessories to keep everything looking shiny and new. When considering your t-top investment, we also suggest you consider the value of being able to extend the amount of time you and your passengers can enjoy your boat and the time spent on the water. Not only will you eliminate the misery and fatigue caused by a day exposed to the sun (or recovering from a sunburn), but also increase the value and potentially increase the lifespan of your boat.
Summary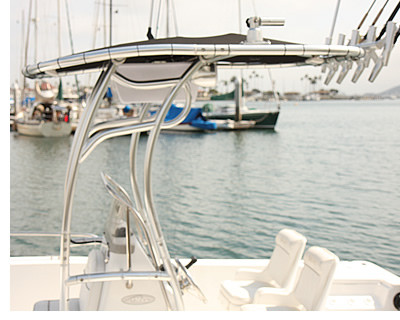 Most agree that a t-top is absolutely a great upgrade for any center console boat. The benefits outweigh the downsides and any investment you put in your boat will only increase it's usability and resale value. Before you make your choice remember to do your due diligence! Find out all you can about the t-top manufacturer, their reputation, read the product reviews and ask questions about fabrication material quality, quality of workmanship, warranty periods, and availability of customer service installation guides and pre and post sale resources.
Top Reasons to Buy a Boat T-Top
Protects you and your passengers from the sun
Makes boating more comfortable and enjoyable
Increases the time you can spend on the water
Increases storage space for rods, electronics, and other accessories
Added safety by making your boat more visible to others

"This T-Top is the best addition I have made to my boat. The design, fabrication and overall quality is excellent. The install was easy with two people and is VERY STURDY."

Brian Gearhart - Huddleston, Virginia
2010 NauticStar 2110 BayStar

Gives you high places to mount lights and antennas
Adds handholds to improve passenger safety
Increases the value of your boat
Make your boat better looking!
Easier fishing and casting compared to a folding bimini
Depending on your boat make and model, what you should expect to pay for a t-top top is going to vary. Stryker T-tops offers helpful online tools to get a price, or you can even call one of our in-house experts at 949-407-5000 and let us configure the perfect Stryker T-top for you.
Based on the thousands of happy customers who send us a "thank you" e-mails or submit reviews and pictures of their installed t-top to our customer gallery, we know that we offer the highest quality t-tops combined best customer service.
How to Research Boat T-Tops
We have another great article called 8 Things to Know When Buying a Boat T-Top that gives very important tips when shopping around for yours. A t-top is not the kind of product you to want buy based on lowest price alone simply because you want to avoid poorly manufacutred units made of lower quality materials. Before you buy, do yourself and your boat a favor and get a run-down of what makes one t-top better than the other.
Also, there are some features you haven't considered and there are a few important questions you will want to ask. Our Frequently Asked Questions About Boat T-Tops article is that is another great resource. For example, below are some of the top questions we can answer for you: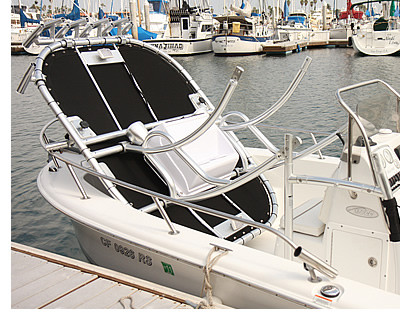 What is a "universal* boat t-top" and how is it adjustable?
Where do I measure my boat to see if an aftermarket t-top will fit?
Do you want a folding t-top for storing in your garage or need it for low bridges in your area?
Can I still open the side door on my center console unit with a t-top?
I don't want a crummy canopy that starts fading in a few months- who makes their t-top with Sunbrella canvas?
What's the difference between 6061-T6 and 6063 aluminum alloy?
My local waters frequently choppy- will a t-top hold up? (Also see v-brace stabilizer kit)
Can I pull a wakeboarder, tubes, towables or other things?
Where can I find a photo of a t-top package installed on my boat?
*Center Console Units with a Hinged Side Door
If your boat's center console unit has a hinged door, you should carefully measure the size and clearance required to fully open it. Depending on the Stryker T-Top model, the lower leg sections might have a horizontal brace that could prevent the door from opening. On the SG300, this brace is welded on; the SG600 has a brace that is mounted with allen head bolts and can be temporarily removed; the SG900 has been designed with a much higher horizontal brace to avoid this situation.
Probably the simplest solution, some of our customers have replaced their door hinges with pins. This allows the door to be pulled out without swinging it open. However, you will still need to consider how the horizontal brace with affect your access to the inside of the console unit. Please contact us with your door's measurements so we can help figure out the best solution based on your needs.
Again, if you have any questions and want to talk to someone about your boat, feel free to contact us at (949) 407-5000. We have employees ready by the phone to give you answers without any pressure to buy. If you are interested in our selection of boat t-tops, click the button below to check them out. You can configure a customized package with different accessories and additional discounts compared to buying them alone. Happy boating!