SG900 T-Top for Center Console Boats - Powder Coated QuickSilver
Product Code:

SG900QS

Availability:

In Stock
SG900 Premium Universal* Boat T-Top Powder Coated QuickSilver
Free 5 Rod Rocket Launcher (Anodized Finish)
25% Off Add-On Package Accessories Listed on this Page!
New Lower Shipping Rates Available at Checkout!
Like all our others models, the SG900's upright leg sections have been upgraded to a 2.5" diameter! The top hoop section for the canopy is still 2" diameter and is compatible with our full range of t-top accessories. All SG900 t-tops are powder coated using the premium brand Interpon by AkzoNobel for the very best in great looks, longevity, and protection. Available colors are white, black and the new QuickSilver which is a perfect match to anodized aluminum.
Our t-tops are "universal*" meaning the upright leg sections can be moved in or out to snugly fit the dimensions of your center console unit. Completing the install with the massive solid aluminum top clamps and included side supporting stand offs, you will have a rock solid, beefy t-top structure with no sway, wiggle or rattle.
Capable of supporting hundreds of pounds, the Stryker SG900 offers the same durability and strength of custom and OEM-installed tops but at a fraction of the price. There's no sacrifice of strength, stiffness, rigidity, or performance with our t-top compared to OEM or a custom fabricated t-top.
Mount all your favorite outrigger gear, lights, antenna, radar or whatever you want to any of the 7 solid aluminum mounting plates.
The price of the t-top includes a marine-grade Sunbrella™ fade-resistant and stain-resistant canvas available in your choice of 1 of 10 standard colors(additional custom colors available at an additional fee). If you've been dealing with a standard folding boat bimini, you'll especially appreciate easier casting, the ability to walk your line all around the deck, and the luxury of being able to stand up straight under the shade.
Includes 4 standoffs in anodized aluminum are included for increased stability and can be sized for any installation.
Looking to take your t-top to the next level? Stryker manufacturers a full line of accessories including electronics boxes, rod holders, rocket launchers, antenna mounts, navigation lights and so much more. No matter what level of sports fishing you're at and regardless of what you fish for, we have everything you need to customize your t-top with affordable t-top accessories.
All Stryker T-Tops are designed for quick assembly and installation without compromising durability. The top is packaged in two conveniently sized cartons for fast shipping via UPS. A professionally filmed 25 minute online video provides detailed step-by-step assembly so you can follow along plus, we have detailed installation manuals. Plus, our fully staffed sales and support team are just a phone call away if you have questions. All that's needed are some basic household tools and a helping hand. Well over 90% of our customers have installed theirs themselves with an average of 3-5 hours all in.
Dramatically upgrade your boat with an extremely strong and stylish t-top, get a wide area of much needed shade to extend your days fishing, add tons of room for handy accessories, and increase the value of your boat with a small investment in a Stryker T-Top. Like every single one of our other happy Stryker T-Top customers, you won't believe the quality and performance and you wish you would have done it sooner!
Please note that the SG900 is not a folding t-top. Only the Stryker SG600 model folds.
*Center Console Units with a Hinged Side Door
If your boat's center console unit has a hinged door, you should carefully measure the size and clearance required to fully open it. Depending on the Stryker T-Top model, the lower leg sections might have a horizontal brace that could prevent the door from opening. On the SG300, this brace is welded on; the SG600 has a brace that is mounted with allan head bolts and can be temporarily removed; the SG900 has been designed with a much higher horizontal brace to avoid this situation.
Probably the simplest solution, some of our customers have replaced their door hinges with pins. This allows the door to be pulled out without swinging it open. However, you will still need to consider how the horizontal brace with affect your access to the inside of the console unit. Please contact us with your door's measurements so we can help figure out the best solution based on your needs.
Find Out Why We're the Best
Please take the time to review our customer SG900 T-Top gallery with over 3,000 submitted photos and hundreds of reviews. You will see we have t-tops that can fit almost any boat including your. Review all our products, compare us to the competition(beware of the cheap copy cats and unauthorized dealers), and then give us a call at (949) 407-5000, email us at sales@strykerttop.com, or fill out our online Quick Contact Form. We offer valuable discounts on customized t-top packages and will work with you to keep you on budget.
There's a BIG difference... buy the original, buy the best: Stryker T-Tops!

New Store Hours!
To serve you better, we're now open Monday through Friday 9am - 8pm Eastern Standard Time.

FEATURES & SPECIFICATIONS
Overall Dimensions:
Overall Height: 7' - 2.5"
Overall Top Width: 5' - 1"
Minimum Frame Width 1' - 6.5"
Maximum Frame Width 4' - 7/16"
Weight: 150 lbs.
Tower Features:
6061-T6 aluminum alloy is much stronger and harder than the 6063 aluminum many competitors use
"T6" indicates the high level of temper our aluminum is treated with and strengthens the molecular structure
Universal* design that adjusts in width to fit boats with center console units that are between 18" to 50" wide
Main t-top sections are professionally pre-fabricated and welded to ensure the highest strength and simplest installation
2.5" outer diameter tubing on the leg sections is the thickest on the market
2" outer diameter tubing on the canopy frame is compatible with all Stryker clamp-on accessories
Premium quality Interpon™ powder coated QuickSilver finish
Easy do-it-yourself installation in 3-5 hours using basic tools and no welding required
Ships in two extra large, professionally packed and vinyl wrapped boxes to protect the precious content
Ships with all the mounting hardware you need
Marine-grade 316 stainless steel hardware and bolts
Four solid billet aluminum stand-offs included to connect t-top leg sections to the center console unit to increase stability
5 Year Stryker T-Tops Warranty
Canopy Features
T-Top price includes one Sunbrella™ Marine Canvas that provides the best fade-resistance, stain-resistance and UV protection
10 standard canopy colors to choose from or, for an extra fee, we can make a custom made one in your choice of available Sunbrella™ Marine Canvas colors
Premium quality, thick gauge paracord for roping the canvas to the t-top
Customer Service
We have an A+ rating with the BBB with many excellent reviews
In our customer photo gallery, we have received over 3,000 customer photos and hundreds of 5 star reviews
Unlike most of our competitors, we have a full-time customer service team whose only job is to help you by phone or online
Sales agents do not receive commissions on sales and will never pressure you to purchase or spend more
We honor our warranty and quickly replace, repair or refund
We are avid and knowledgeable boaters and fishermen located in Laguna Hills, California
We are easy to get a hold of, knowledgeable and friendly
We're here to help you before your purchase, during the installation and for the lifetime of original ownership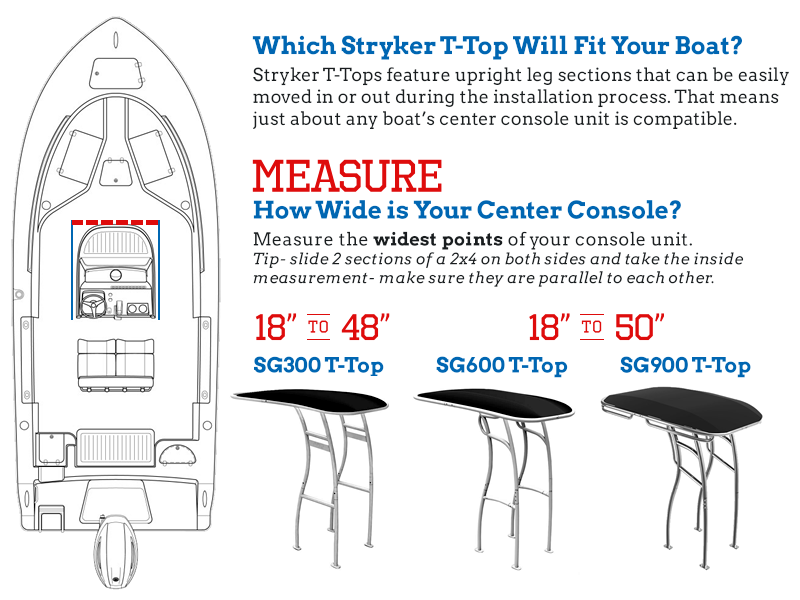 Rating: 5/5
Very happy with the new SG900. Solid T-TOP!

Stryker SG900 Powder Coated QuickSilver T-Top Review by Joseph Cothran from Pickens, South Carolina on February 21, 2020
Installed on 2018 Key West BR210
Very well made product. I am a retired engineer and fabricator of metal production equipment. They have produced a very nice product which is easy to assemble and the fit and finish is excellent.
Stop shopping around! I've seen T tops by the other guys and they're not even in the same ball park. Stryker is welded better, finished better, just looks better made. All my buddies are jealous and I get stopped all the time at the gas station, landing and on the water. Installed with a neighbor no problem but one extra person would have sped things along. Easy to order, got the free rocket launcher and arrived in 3 days.
Thank you for all the help over the phone and emails answering my questions during the installation. It came out perfect and love it. My Mako looks incredible! Must be 20 degrees cooler with the shade. Thanks again!
T-top looks like it's straight from the factory! The build quality and finish is very professional and not at all aftermarket looking. Wasn't sure how the "universal" fit would work out with my HydraSports 20 but it's a perfect fit and rock solid. Simple to adjust the leg sections in or out to where I wanted before bolting and clamping down. Simple and smart design! Highly recommend it!