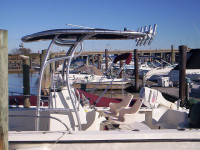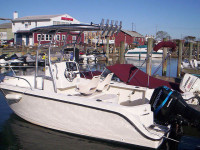 Here are a couple of Pics. of the top installed on my 2001, Trophy, Model 1903. Frame went on in a few hours one night after work and a little more tinkering to get the rocket launchers and the fabric on the next morning.
Love it especially the nine place rocket launcher. You can never have to many rod holders. Been on all season and loved it.
Mark Cozine from Long Beach, NY United States
Add Your Boat to Our Gallery
If you have a Stryker T-Top on your boat, we want to show you off in our customer gallery!