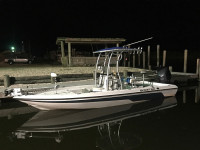 I'm completely happy with my t-top. It's solid as a rock and I love the shade on a hot summer day!
Gregory Porobil Metairie, LA
Add Your Boat to Our Gallery
If you have a Stryker T-Top on your boat, we want to show you off in our customer gallery!