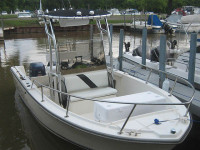 I just wanted let you know I appreciated your assistance in getting the top for my reconditioned boat. The Stryker Top really set off the finished product.
Sam Swickard from Plainfield, IN United States
Add Your Boat to Our Gallery
If you have a Stryker T-Top on your boat, we want to show you off in our customer gallery!