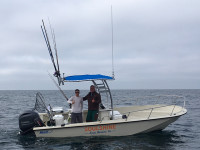 Love my Stryker T-Top! I have had my Whaler for 20 years and it is a great boat, but I thought adding a T-Top would make it even better. I looked at many different T-Tops but decided on a Stryker because it had the best quality and design and the price was reasonable. I could not be happier with my Stryker T-Top, the installation was easy and the quality is first rate, the rocket launcher, lights and universal mount I added round out the package. Buy with confidence, I highly recommend these products.
Jean-Paul Demeure from Solvang, CA United States
Add Your Boat to Our Gallery
If you have a Stryker T-Top on your boat, we want to show you off in our customer gallery!