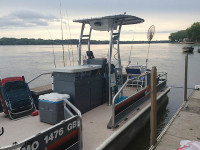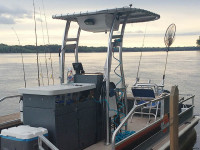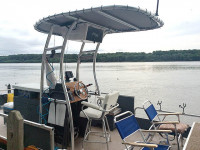 The minute I saw your T-Top I new it was the perfect addition for my pontoon boat.... My wife an I love to fish for crappie. Your top lets us walk around the boat with long poles with ease. I have all kinds of things hanging off it. The box provides a place for my radio, binoculars, boat papers and VHS. I also hung a car fog light off the box to shine down on my fish cleaning table. LOVE THAT TOP!!!!!!!
Delbert Fessenden from Palmyra, Mo. United States
Add Your Boat to Our Gallery
If you have a Stryker T-Top on your boat, we want to show you off in our customer gallery!