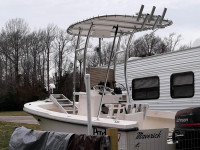 T-Top looks great on the boat. A couple of my buddies, who have custom made tops, liked mine better because of the curve in it and it's shines. It was easy to put together and install with directions. I even did it by myself in a few hours.
When it arrived I was surprised while opening the boxes that there was not one scratch or mark on any part of the top. After installation, I took to the water to test for stability or rocking around and the unit was solid.
Michael Coiner Elizabeth City, NC
Add Your Boat to Our Gallery
If you have a Stryker T-Top on your boat, we want to show you off in our customer gallery!