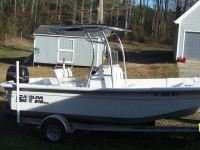 This is my 2009 Carolina Skiff DLV with my new Stryker T-Top. The T-top adds to the good looks and I`m sure it will be a big help with the fishing.
Vernon Wright
Add Your Boat to Our Gallery
If you have a Stryker T-Top on your boat, we want to show you off in our customer gallery!