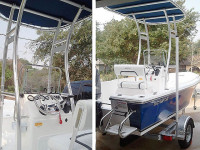 I really like the 300 series it was easy to install and gave some class as well as coverage while on the water. The construction and sturdy material is awesome. I have refered several of my friends to your company after they saw the new addition. Thank You Stryker!
Randy Capo from St. Augustine, Florida United States
Add Your Boat to Our Gallery
If you have a Stryker T-Top on your boat, we want to show you off in our customer gallery!