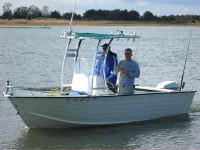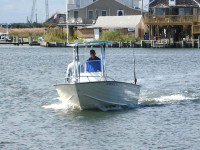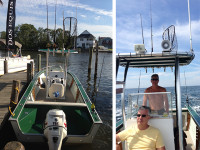 Wow...R-U-Kidding me... my brother, and brother-in-law, and I all got together and purchased a fix-er upper boat. We tore it all down and replaced most everything all the way to the floor and transom. Knowing we were going to need some kind of top to set it off...we found the Stryker site and ordered up a T-Top. (PS: Your model on your video helped us decide too !)
The Stryker top is one of our best items we purchased on the boat, really first class and would recommend Stryker to anyone replacing or upgrading their T-Top.
Our boat is a 1976 Starcraft classic rebuild- it works great and really looks cool!
Our Stryker T-Top is the best. It holds up very well in our salt water area and is a strong element of our boat. No complaints whatsoever !

Robert Miller from Beach Haven, New Jersey United States
Add Your Boat to Our Gallery
If you have a Stryker T-Top on your boat, we want to show you off in our customer gallery!