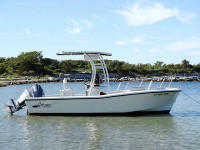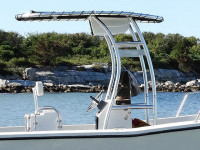 Great shade for the family, cover from rain, stability when cruising fast and in rough seas! I have recommended Stryker to many already!!!!!
So this boat was handed down to me, and was scheduled to be crushed. The boat is 25 years old and had rotten floor, a rotten gas tank and an old engine. I did the following:
- repowered with a 115hp Yamaha 4 Stroke, new controls and steering. Replaced the fuel tank and deck installed LED lighting under the gun whales, LORAN GPS, bew interior skid free decking, new compass.
When I went to get a t-top, I did ALOT of research. Stryker, hands down was the best aftermarket quality top I could find. The look, the assembly the whole package. So I purchased and installed the ttop.
I had invested about $25k total into this boat.
Unfortunately in a freak storm last November, the cut out transom took on water and the bilge couldn't keep up and she capsized...TOTAL LOSS
HEART BREAK! (THANK GOD FOR INSURANCE)
I will never recoop the man hours, but if I ever re do a boat again, you can count on me to have a STRYKER T TOP!
Timothy Greene from Waterford, Connecticut United States
Add Your Boat to Our Gallery
If you have a Stryker T-Top on your boat, we want to show you off in our customer gallery!