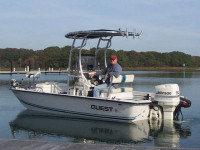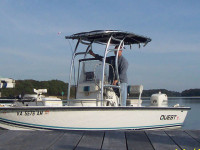 I put my new Stryker T-top and rod holders on this past weekend. It looks great and was fairly easy to install. I gave it a test ride on the Chesapeake Bay on Monday and it worked great. I actually caught some fish. All I need now is a cold weather enclosure and I will be ready for winter rock fishing. It sure enhances the appearance of my boat. Thanks for a quality product at a fantastic price.
James Hogan from Beford, Virginia United States
Add Your Boat to Our Gallery
If you have a Stryker T-Top on your boat, we want to show you off in our customer gallery!